2:45pm – 6:30pm
We are not a daycare!  We are not a babysitting service!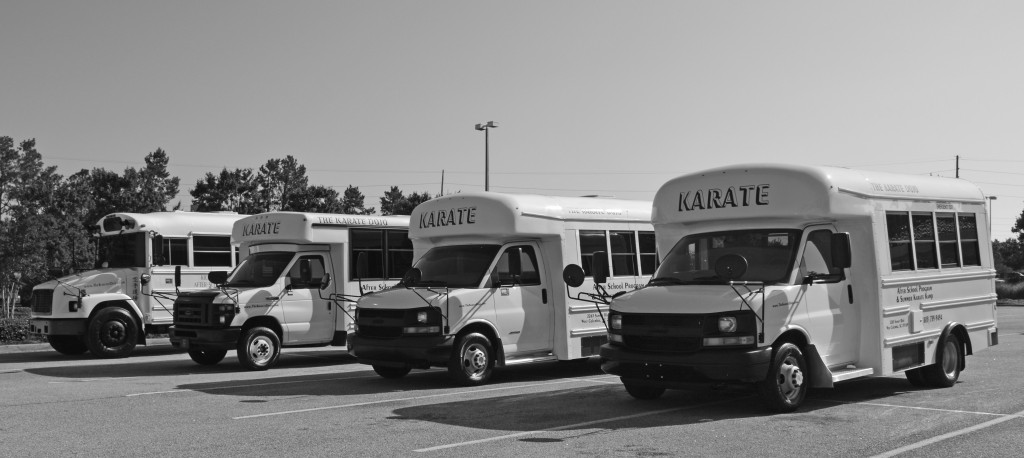 Our After School Program is the only program of its kind in the area! We transport your child from the following schools to our facility.
Lexington #1
Carolina Springs Elementary School
Meadow Glen Elementary School
Midway Elementary School
Oak Grove Elementary School
White Knoll Elementary School
Meadow Glen Middle School
Lexington #2
Cayce Elementary School
Congaree Elementary School
Riverbank Elementary School
Saluda River Elementary School
Springdale Elementary School
Wood Elementary School
Fulmer Middle School
Northside Middle School
Private / Charter
Northside Christian Academy
East Pointe Academy
Limited Seatbelts Available – DON'T DELAY!!
One-time Enrollment Fee: $169
(includes Karate Uniform (embroidery & hemming), NEVER GIVE UP T-Shirt, Curriculum Book)
One-time Supply Fee: $43
(includes Pencils, Paper, Rulers, Crayons, Friday Activities, etc.)
Weekly Tuition (Traditional): $94 / Week
($89 / Week per child after the first child)
(includes pickup from School (when applicable), Snack, Classwork (when applicable), Homework, Karate Lessons, and weekly laundry service)
Why is our program so popular?
Our program is first and foremost about quality Martial
Arts Instruction, Health and Physical Fitness. Children participating
in this program practice Martial Arts daily!!
This program has been designed to assist parents with
the tough job of giving your child the tools and skills needed to overcome
their daily obstacles. Whether it is getting bullied at school, a lack
of focus on schoolwork or self-confidence issues, The Karate
Dojo:  After-School Program can help your child become a self-confident
leader.
When you pick your child up from our facility their snack,
homework and karate lessons are already done!  You get to head home
and enjoy supper and quality time together!!
Children are picked up daily upon conclusion of their school day and
transported to our facility. Snack time is given along with time for
completion of their homework. The children then take part in daily,
confidence building Martial Arts classes with an emphasis on Bully-Proofing,
Respect, Focus and Discipline.
Parents then pick up their children upon completion of their own work
day (by 6:30pm).
Within weeks the changes in your child will become obvious. They
will be able to say NO to unhealthy peer pressure. Their confidence level
will rise. They will start being able to focus more clearly on their
homework and they will begin to feel better about themselves.
The Karate Dojo is recognized as one of the top sport karate
schools in the country by various leagues including the NBL & SKIL.
All of our staff is certified and trained under Sensei Brian Pena.
We pick your child up from school
Clearly marked, federally approved vehicles
Daily confidence building Karate classes
Snack time
Homework completion time
Full day-Teacher Work Day camps